Top 05 Social Media Marketing Mistakes Which Drown Your Campaigns
Top 05 Social Media Marketing Mistakes which drown your campaigns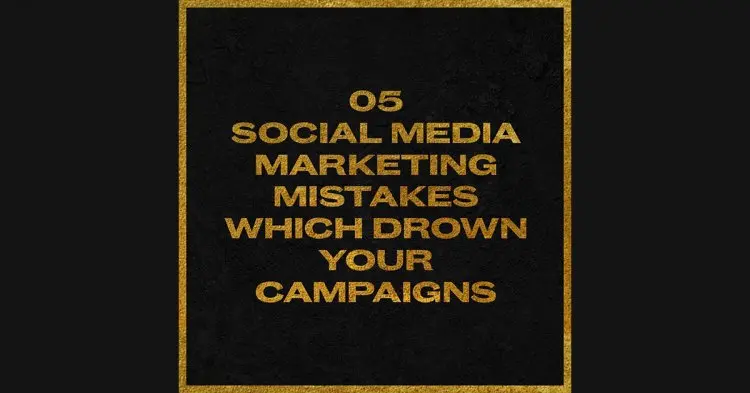 Top 05 Social Media Marketing Mistakes Which Drown Your Campaigns
Top 05 Social Media Marketing Mistakes Which Drown Your Campaigns
1. YOU KEEP USING SOCIAL MEDIA FOR SALES ONLY
Let's be honest, people love buying but they don't like to be sold. Instead of being sold your potential customers would like to feel that you want to solve their problems, help them, that you don't see them as a walking banknote. This is what you have to do - offer them help. Research says that people use Google to find the answer to their questions, get to know something they need, not just buy and go.
2. LACK OF SPONTANEITY IN CREATING CONTENT FOR SOCIAL MEDIA
Another thing which makes me go bananas is boredom and predictability. In order to make the potential customer interested in your product, it is no longer enough to have predictable social media content ideas. It's 2021, wake up! To be clear, it is absolutely right to lead your SM profiles according to well-thought-out strategy but it is also important to not forget about being spontaneous sometimes.
3. BAD SELECTION OF SOCIAL MEDIA PLATFORMS FOR BUSINESS
One of the reasons why your social media campaigns are trash is a half-baked selection of platforms, which you want to conquer. There are no shortcuts here like for example "three best social media platforms for marketing" because every business is different and requires careful ana!ysis. Luckily, nowadays we have social media monitoring tools which shows you the exact number of mentions, inter alia, on Facebook, Twitter, Instagram, video platforms, blogs etc.
4. YOU DON'T USE SOCIAL MEDIA MONITORING
One of the common mistakes which marketers tend to make is overlooking mentions about their company. What if some popular influencer used your product and reviewed it? It would be nice to say thank you and maybe talk about cooperation possibilities in the future? On the other hand, maybe someone is giving you an unflattering opinion because the product you have delivered doesn't meet the customer's expectations? Such an opinion shouldn't be left unanswered.
5. YOU WAVE NO STRATEGY
Instead of a long text, decide to prepare some questions you should ask yourself when developing a Social Media Marketing Strategy for your brand.