4 Myths Of Email Marketimg That Are Still False
4 MYTHS OF EMAIL MARKETIMG THAT ARE STILL FALSE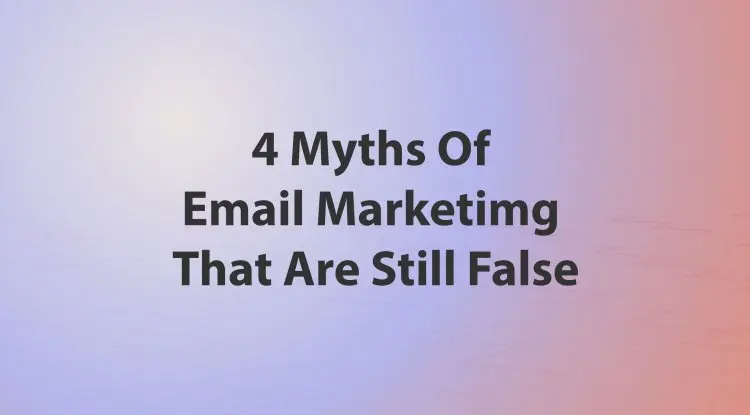 4 Myths Of Email Marketimg That Are Still False
4 Myths Of Email Marketimg That Are Still False
1. EMAIL MARKETING DOESN'T WORK ANYMORE
EMAIL MARKETING YIELDS AN AVERAGE OF 4,300% RETURN ON INVESTMENT ON AVERAGE. (DIRECT MARKETING ASSOCIATION) • 58% OF PEOPLE CHECK THEIR EMAIL BEFORE THEY GO ON SOCIAL MEDIA, THE NEWS, OR THE INTERNET. (OPTImoNs.FER)
2. SENDING EMAILS ANNOYS YOUR AUDIENCE
IF YOUR CLIEN FOR EMAILS, IT MEANS THEY WANT THEM! IN FACT, BE SURE TO SEND YOUR EMAILS OFTEN ENOUGH SO THAT THEY DON'T FORGET WHY THEY WERE INTERESTED IN YOUR BUSINESS OR NEWSLETTER IN THE FIRST PLACE.
3. THERE IS ONLY ONE "BEST TIME" TO SEND CAMPAIGNS
OUR ADVICE IS TO COLLECT YOUR OWN DATA AND BASE YOUR TIMING ON YOUR UNIQUE RESULTS. YOUR BUSINESS IS SPECIAL; DON'T TAKE SHORTCUTS AND ASSUME WHAT WORKS FOR SOMEONE ELSE WILL WORK FOR YOU.
4. YOU NEED A GIGANTIC MASTER LIST
THE MYTH HERE IS THAT THE SIZE OF YOUR MASTER LIST IS THE BE-ALL-END-ALL. IN REALITY, THE QUALITY OF I) YOUR CAMPAIGNS AND 2) THE EMAILS ON YOUR LIST ARE WAY MORE IMPORTANT THAN THE RAW QUANTITY OF INBOXES YOU END UP IN.